Established in 1964— The path to Otowasushi until today
The president (Hiroshi Hashimoto) was interested in a job at a popular sushi restaurant in Itsukaichi in his childhood. His heart was subsequently embodied. Then, the sushi restaurant went out of business. There was no sushi restaurant in Itsukaichi. His efforts to create a sushi restaurant in this area began.
1961(Showa 36)「Training Period」
The president (Hiroshi Hashimoto) graduated from high school. To open a sushi restaurant in Itsukaichi, he started training at "Otowasushi" which was located in Bunkyo Ward, next to the mansion of the former Prime Minister, Ichiro Hatoyama.
After training, he obtained permission from the original "Otowasushi" to open the same brand by himself and return to his home.
[Picture]
At the end of his training, Mr. Keizo Takahashi, a former NHK news caster (the second one from the left), visited him for interviewing.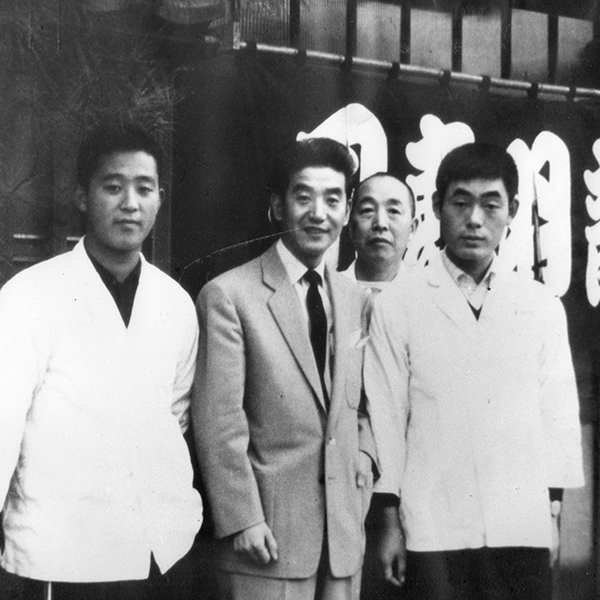 1964(Showa 39)「Open his Restaurant」
He opened his sushi restaurant "Otowasushi" in his hometown Musashi Itsukaichi on April 1st in the year of Tokyo Olympics.
1967(Showa 42)「Inspiration of Business Expansion」
The president's inspiration to have Chinese cuisine and ramen noodle soup gained more popularity.
The diversified menu items shaped the restaurant today. Well-trained sushi chefs and chefs specialized in Chinese cuisine took a two-phased approach.
At that time‥The employees learnt Chinese cuisine for 4 years from the chef specialized in Chinese cuisine who was sent from the association.
4 or 5 young employees lived and worked at that time.
Due to the construction of Okutama Circular Road which was opened in 1973, many people who were related to the construction came to the restaurant every day.
1970(Showa 45)「The First Renovation 」
We had a first renovation in this year.
1976(Showa 51)「The Current Chef Came to Otowasushi 」
The current chef specialized in Chinese cuisine came here. Young employees delivered foods to homes by a bike and bicycle at that time.
1979(Showa 54)「The Second Renovation」
Due to the second renovation, we served in a temporary restaurant. During the renovation, we only offered delivery services.
The renovation was completed and we reopened the restaurant.
1980(Showa 55)「Eel Dishes Became Staple Dishes 」
"Eel dishes" were served only on the midsummer day of the ox, but they became the staple dishes.
We had very busy days because of the bubble economy from this time to 1991. After this period, our serving style has gradually changed for 20 years, and reached to the current business style.
2001(Heisei 13)「Changes in Purchasing Eels」
We started to purchase eels directly from Lake Hamana fisheries cooperative association, and here we are.
2007(Heisei 19)「Completion of Noodles of Four Seasons」
We created the noodles in each season. Especially miso flavor ramen noodle soup with oysters which was served only in winter gained popularity.
2011(Heisei 23)「Starting Catering Services」
We started catering services which resulted in expanding our business.
2012(Heisei 24)「Birth of Danbee Soup」
We started to sell a local food "danbee soup" which Tourist Association Youth Department created and won the Grand Prix of local's favorite foods. Since then we have served it, and it has become our specialty.
2013(Heisei 25)「New Bowl of Rice with Sashimi on Top」
We started to sell a bowl of rice with sashimi on top.
2015(Heisei 27)「Leave it to Sushi Chef's Choice 」
We started to sell hand-shaped sushi of chef's choice, and it gained popularity.
2017(Heisei 29)「Local Produce for Local Consumption」
Our restaurant is registered as "a restaurant using local ingredients of Tokyo. We use various local ingredients throughout the year.